Want to become a dent removal technician? Work with us!
What
we want

.

The success of Traimasters is the result of the competence and skill of the professionals who make up our team.
To continue to be a leader in the dent removal sector in Italy it is important for us to choose dynamic and motivated people.
Who
we are looking for

.

We are looking for dent removal technicians ready to join our team and inexperienced people looking for new professional outlets.
The only requirement is the passion and the desire to engage in hard work but able to offer great economic and professional satisfaction.
Why
work with us

?

If you are passionate about cars and interested in professional manual work, we can offer you the opportunity to turn your life around.
Join Traimasters, a winning and highly professional team, leader in the removal of dents with PDR technology in Italy!
The Traimasters team
Freelance technicians and dynamic young people without experience can join the Traimaster team, ready to work in a stimulating context, in which to express themselves and make themselves better.
Collaborating with the Traimasters team will enhance your personal characteristics in a continuous comparison with the experiences acquired, you will work in a team that pays attention and attention to everyone's needs and you can work with serious and honest professionals.
Traimasters constantly invests in the professionalism of its staff and external partners and this allows us to better meet customer needs, building a solid relationship based on trust.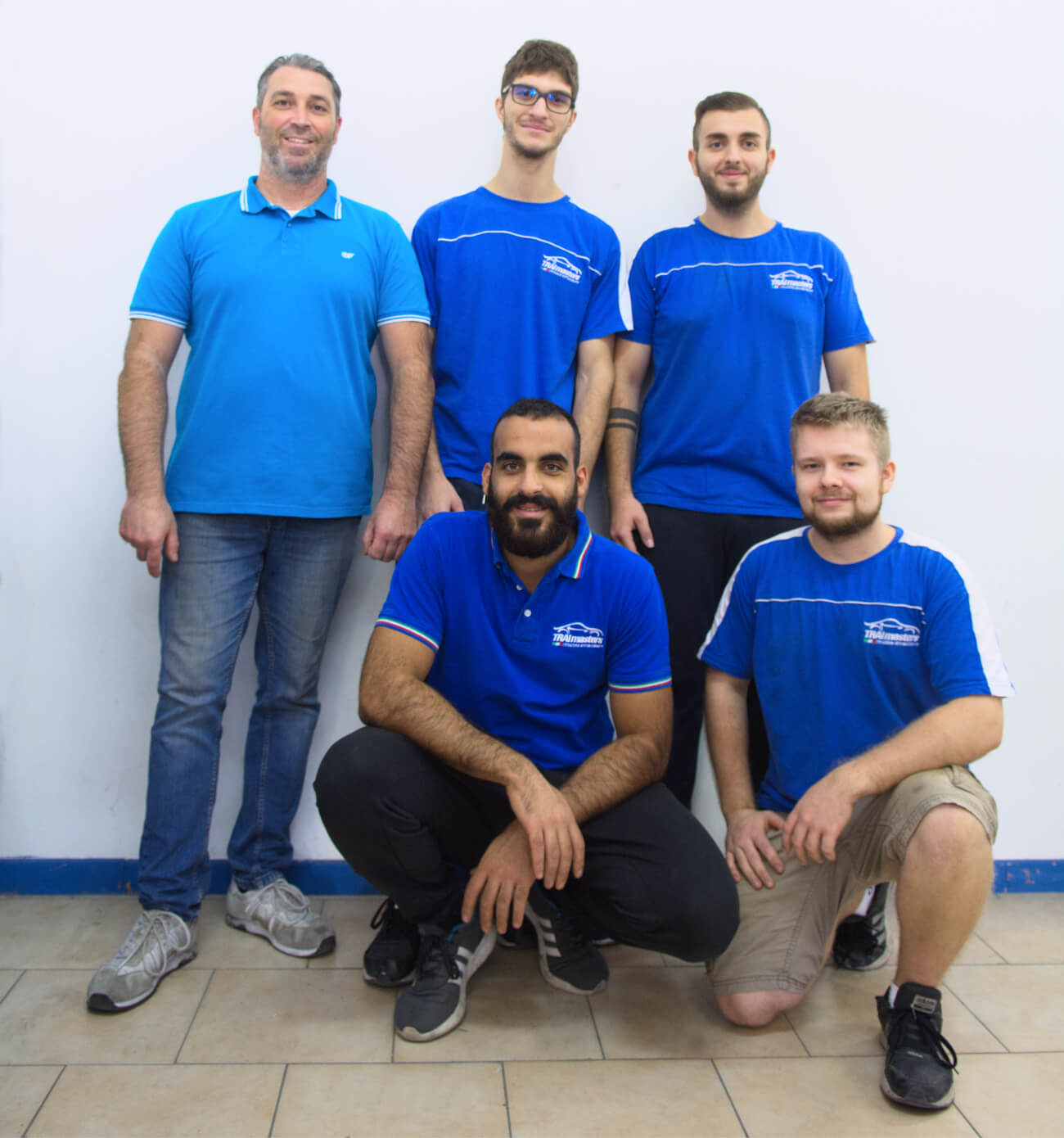 How to apply
Candidates who want to be part of our team will be selected by an experienced technician who will evaluate their skills and predisposition to team work.
If you do not have experience in the sector, after taking part in the lessons and obtaining the qualification, will be constantly supported by our technician experienced in repairing cars really damaged until you are able to solve any problem in total safety and independence.
If you are already a dent removal technician, you can apply and, after a technical check and a possible update in PDR techniques, you can qualify and become part of Traimasters.
Want to become a dent removal technician? Work with us!
Joining our team is simple! Traimasters is always looking for motivated staff with a great propensity to work.
Are you a qualified dent removal technician looking for a company that can give the right value to your skills?
You have no experience but are passionate about cars and want to work in a winning team?
Thanks to our professionalism you will make a difference. Join us, you will be part of a great team of qualified and specialized technicians.
Thanks to Traimasters you will have the opportunity to earn well and perfect yourself at exclusive levels of competence and professionalism that is unparalleled in the industry.
If you are interested in doing a job as a dent removal technician and turning your life around, contact us, you can be part of our team!